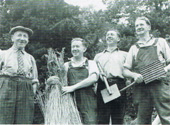 'Of Brecks thatch and sparrows'
An article based on the written records & memoirs of the Reeve thatching family, across more than a century, written by S.Letch
The Association has released a 'Thatching Straw - Harvest & Availability - 2019' statement.
Please click here to access it.


Growing Straw for Thatching

Description: A 37 page A4 paper back guide to producing and recognising good quality thatching straw, with much to take the interest of the thatch owner or interested observer.

Price & Availability :-
Please email either
jlthatch@aol.com or
Clara.Willett@HistoricEngland.org.uk
International Straw Builders
Please join us for the 2012 International Straw Builder's Conference, September 16th – 22nd in Estes Park, Colorado. The mission of the 2012 ISBC is to foster the development, improvement, education and positive impacts of straw building and related sustainable building approaches. The international nature of the conference supports the critical exchange of valuable and diverse viewpoints and experiences and enhances the opportunities for networking. And we intend to have a lot of fun. For more information visit www.strawbaleconference.com.
The Thatchers Craft deals with the history of thatching, the stage-by-stage construction using long straw, combed wheat or water reed, and has chapters on materials, tools and roof construction.
The publication is available from this site as facsimiles of the book as 10 PDF documents. You can download these by clicking on the title links.